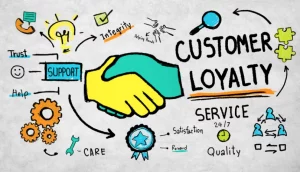 Customer retention rate is the number of people who place multiple orders on a website over a predetermined amount of time. Regardless of your specific strategy, there's no denying the benefits of keeping existing customers engaged with your brand. Repeat customers are more likely to attend events, engage with you on other marketing channels, tell their friends about your company, and much more.
Here's where it gets interesting: Research shows that repeat customers tend to spend around 67% more than first-time buyers. This statistic means that, if you can keep existing shoppers coming back to your site, you're likely to see a boost in your average order value (AOV).
It's also worth noting that it costs 6-7 times more to convert a new visitor into a customer than it does to retain an existing customer. So, if you're interested in improving your profitability and lowering your marketing costs, improving your customer retention is the way to go.
The strategies
1. Start a loyalty program:
Loyalty programs are an excellent way to convince buyers to return to your site. This strategy predates modern digital marketing, but the internet has made it easier to offer this feature to customers around the globe.
Back in the day, companies like McDonald's and Starbucks gave out customer loyalty punch cards. The cashier would use a custom hole-puncher to mark the card whenever someone came in to get a burger or coffee. After the sixth time, the customer was rewarded for their loyalty with a free product.
In e-commerce, this principle largely remains unchanged. However, the loyalty marketing tools available now make it much easier for small businesses to add this feature to their site.
There are two popular ways to incorporate this type of program:
Point system: Users are rewarded with points that they can convert to store credit.
Freebie: The same system as the punch card, but modernized.
Customers who were already convinced to come back will reap the benefits of this system, which will make them like you even more. Meanwhile, you can win over new customers by introducing them to the reward system after completing their first purchase.
2. Collect feedback throughout the sales process:
Customer feedback is crucial for keeping shoppers invested in your business. Getting inside your customers' heads, and understanding what they expect from your business, can help you fine tune your website and marketing strategies. Plus, long-time visitors will enjoy seeing their thoughts shape your brand.
Data from onsite feedback forms, social media, and email surveys are jam-packed with information that you can use. It's important to consider data from all sources in this instance, not just paying customers. There's a good chance that some people who haven't bought something from your site might change their minds if they see their suggestions come to life.
Suppose new email subscribers mention in a survey that they don't fully understand why they need your brand. In that case, you can start working on a customer education series to show users the value of your product or service.
These seemingly small encounters can have a massive impact on your retention rate.
3. Engage with your audience across all marketing platforms:
If your goal is to improve retention, you're definitely going to want to develop a robust social media and email marketing strategy. When compared to single-channel marketing, omnichannel marketing can improve retention rate and engagement by a whopping 90%!
The truth is that most people are not going to go to your website every day. You have to meet them where they spend their time if you hope to turn them into repeat customers. Here are a few ways to increase social media engagement:
Broadcast live video events (webinars, AMAs, and interviews).
Host online giveaways.
Respond to comments on your posts.
Share articles from your blog or other streams of original content.
Email is another channel that you should pursue if you want to boost your retention rate. We found that 58% of internet users say that their email is the first thing they check online in the morning. If you can deliver high-quality emails to your customers, they are more likely to eventually make it back to your site.
Make your emails relevant to each user. Personalization can have a massive impact on how customers perceive your brand. 80% of online shoppers say that they want businesses to personalize their content and offers.
4. Make it easy for users to find answers:
I suggest adding a live chat option to the bottom of your site. You should clearly show that your team is available and ready for questions.
Business leaders selling somewhat complex products, like SaaS, should consider the benefits of adding a knowledge database to their site. Sometimes users don't want to talk to customer support. Instead, they would rather look for the answers themselves.
As you can see, there are plenty of ways to retain your best customers and keep them engaged for years to come!